Poor Dorothy didn't even see it coming. Perhaps if she had known how to prepare for a tornado, she wouldn't have ended up in the Land of Oz.
Every year hundreds of tornados sweep the U.S. and cause loss of life and millions (sometimes billions) of dollars in property damage. A tornado can be on the ground in an instant and leave unsuspecting victims with only seconds to react. The time to make a plan is now, not when you hear that dreaded freight train sound.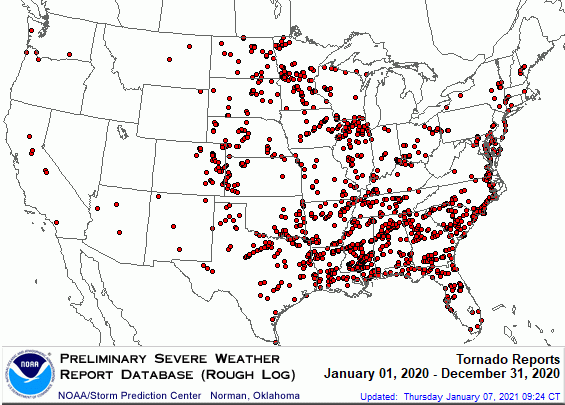 How to prepare for a tornado
Preparation is key to ensure you and your family are protected when the unexpected happens.
Identify a safe room or shelter for yourself, your family, and any pets. This space should be on the lowest floor, preferably an area without windows. Do not seek shelter in a mobile home. If tornado warnings are in effect, seek shelter in a site-built structure or, in a worst case scenario, a low lying area such as a ditch. Download a trusted weather app and ensure notifications are turned on.
Check out Tom's Guide to the best weather apps. I personally use NOAA Radar Pro and receive updates on watches and warnings in my general area as well as where lightning, rain, hail, and high winds are occurring.
Gather an emergency kit that includes water, a flashlight, fresh batteries, a first aid kit, medications, and non-perishable foods. Store the kit in or near your safe room.
Create a list of important telephone numbers and ensure everyone in your home has these numbers saved on their devices. Add emergency contacts to your phone. First responders can use these in the event you are unable to self rescue.
Have additional protection against falling items from above, like a heavy duty table, or cover yourself with thick blankets, a mattress, or sleeping bag.
Discuss your emergency plan with your children. Educate them on the warning signs of a tornado and when they should take cover.
Practice your emergency plan with your family. Run drills periodically and ensure everyone knows where to go and what to do. During a tornado, every second matters.
When severe weather happens
Be aware of any local tornado alarms
Take advise of local weather watches or warnings.
Keep an eye out for a dark or green-colored sky, low lying clouds and listen for a loud roar that may sound like a freight train.
Read more about tornadoes here.
How to prepare for an insurance claim after property damage
Before there is a threat of severe weather, document your belongings with a video or photos of each room. Gather and protect supporting documentation for high-value property such as jewelry, watches, etc. Upload all documentation to a cloud server.
Review your insurance policy and be sure you understand your coverage limits, any limitations of coverage, and any special policy deductible for hail or wind.
Save your insurance company's contact information and policy number in your phone and back it up to the cloud.
When property damage occurs, notify your insurance company right away. When it is safe to do so, walk around your property and take photos. Create a list of damaged items for your adjuster and include any invoices, receipts, or proof of ownership.
Remember, you and your family's safety is more important than property. Plan, prepare, and practice your emergency response plan. Your life could depend on it.